Truth & Reconciliation Week – orange shirt day
September 30th is recognized as National Truth & Reconciliation Day (also known as Orange Shirt Day).
What do these words mean to you?
Relationship
Broken
Family
Government
Missing
Indigenous
Language
Churches
Reconciliation
Tradition
Trauma
Residential
School
Intergenerational
Culture
Words have the power to mean something either positive or negative for different people. These concepts and words help to describe the tragedy surrounding residential schools that is Canadian history.
More than 150,00 First Nations, metis and Inuit Children were forced to attend government-funded residential schools between 1870s and the late 1990s. There was reported abuse – emotional, physical, and sexual – in these schools.
More than 4000 children failed to return home. This annual day of commemoration is seen as a way to raise awareness of past wrongs and acts as an important step in the healing process.
Source: "Healing the Past: Canada's First National Day for Truth and Reconciliation" CBC News: News in Review, December 2021. Curio.ca
Why is it an Orange Shirt?
The "orange shirt" in Orange Shirt Day refers to the new shirt that Phyllis Webstad was given to her by her grandmother for her first day of school at St. Joseph's Mission residential school in British Columbia. When Phyllis got to school, they took away her clothes, including her new shirt. It was never returned. To Phyllis, the colour orange has always reminded her of her experiences at residential school and, as she has said, "how my feelings didn't matter, how no one cared and I felt like I was worth nothing. All of us little children were crying and no one cared."
The Orange Shirt Story by Phyllis Webstad
Truth and Reconciliation is Canada
Indigenous History through Art
The picture below was created by Kent Monkman and is titled Shame and Prejudice: A Story of Resilience. What do you notice about this artwork and what does it say about Canada's history?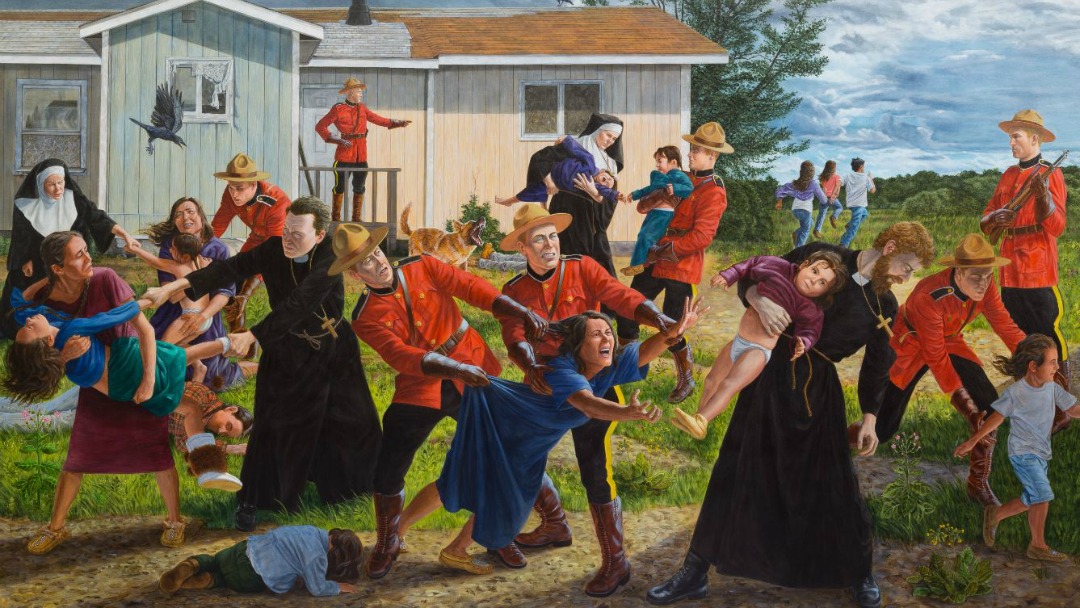 "I Lost My Talk" by Rita Joe
I lost my talk
The talk you took away
When I was a little girl
At Shubenacadie school
You snatched it away:
I speak like you
I think like you
I create like you
The scrambled ballad, about my word.
Two ways I talk
Both ways I say,
Your way is more powerful.
So gently I offer my hand and ask,
Let me find my talk
so I can teach you about me.
1.  What does this poem mean by 'talk'?
2.  At the end of the third stanza, the speaker admits 'your way is more powerful.'  What might 'Power' mean in this poem?  Who is the 'You' she is talking to?  Does it include you?  In what way is your way more powerful?
3.  What does this poem express about language?
If you were to translate this poem in your own language, would it help you to understand what the poem expresses about language?
5.  Imagine if your first language was taken from you.  How would you feel?  How would you tell your children about your family?  How would you communicate with your ancestors from your home country?

Adapted from:  https://poetryinvoice.ca/read/poems/i-lost-my-talk
Reflection
We all come from somewhere, and we all have stories to share. What is a story you'd like to share?
Before Orange Shirt Day, I knew…
Now I know…
Now I feel…
The action I will now take are…